Welcome to My Care Dental Centre!
Conveniently Located Dentist in Niagara Falls
My Care Dental has a tradition of providing outstanding dental care in Niagara Falls, Ontario. We are dedicated to providing you & your family the advances that professional dentistry has to offer. We are located on McLeod Road near Drummond Road. Our practice focuses on family & cosmetic dentistry & we are happy to help you achieve a healthy, beautiful smile in our comfortable, safe & friendly environment. We look forward to providing you & your family with the dental care you deserve.
Come in or call us for your appointment today! We look forward to hearing from you soon!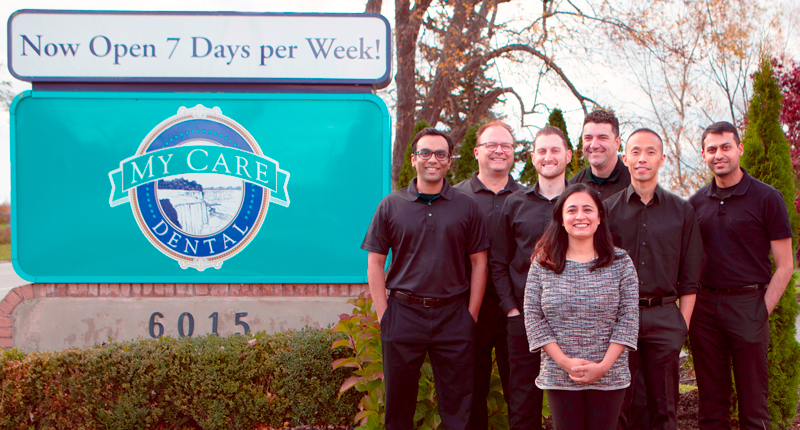 To better serve our community, we speak English, Italian, Croatian, Czechoslovakian, Cantonese, Mandarin, Gujarati, Hindi, Punjabi, Kannada, & Serbian!
---
One Vision, One Goal, One Spirit
To Continually Enhance the Lives of Our Dental Patients, Staff, and Community as One
---
Comprehensive & Convenient Dentist in Niagara Falls, Ontario
At My Care Dental, we have extensive experience in all aspects of modern dentistry. We offer comprehensive dental care to the Niagara Falls community, including everything from preventive education & routine hygiene that help to reduce dental problems to professional solutions for the dental issues our patients face like orthodontics & restorative dentistry.
---
My Care Dental Is Part of the Community
During "My Care Day" we provided free dentistry for our community. It was held on Sat May 4th, 2019. This year we were able to give 100 patients something to "smile" about. My Care Dental has held this day annually for the past 11 years now & has donated over $450,000 total in free dentistry.